Close Window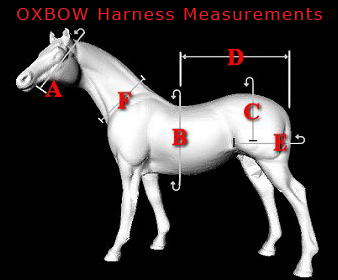 MEASURING FOR HARNESS:
A. From corner of the mouth, behind ears to the opposite corner of mouth (where bit enters).
B. Girth (around body at the chest).
C. Over the loin.
D. From saddle to dock.
E. From flank to flank.
F. Collar size.
EXAMPLES: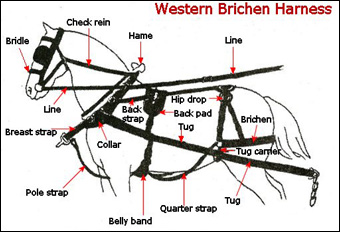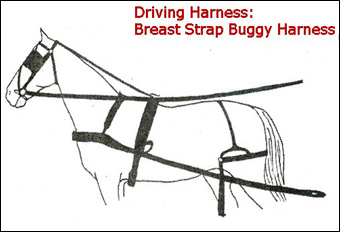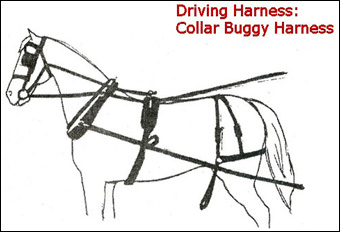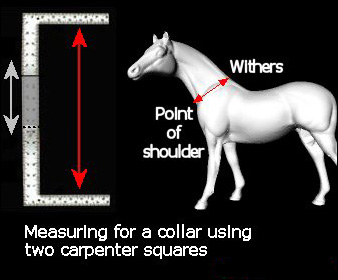 MEASURING FOR COLLARS:
Collars are measured in inches from the top of the withers to the point of the shoulders.
Using carpenter squares, overlap the bodies and slide them together to get the proper fit. Measure the inches inside of the tongues with a yardstick to determine the correct collar size.
Also in measuring, it is important to remember as most horses lower their heads when they lean into a collar, extra room is needed in the throat area. Our Amish friends suggest when measuring a collar for a draft horse, allow 4 inches (or a hand turned side ways) between the bottom of the throat to the bottom of the collar.
When measuring a collar for a standard driving horse, allow 2 inches (or two fingers side ways) is usually sufficient.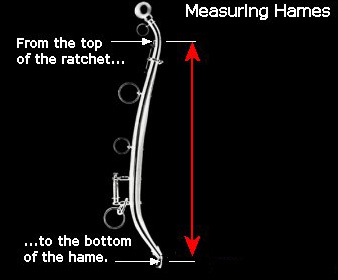 MEASURING FOR HAMES:
Hames are measured in inches from the top notch of the ratchet to the bottom of the hame.
Standard hames sizes are in two inch increments from 20 inches up to 32 inches. Larger sizes are by special order. Pony hames are sized from 12 inches to 22 inches.
PLEASE MEASURE THE COLLAR FIRST SINCE HAME SIZES ARE TWO INCHES LONGER THAN THE COLLAR SIZE!
Also to remember in measuring for Hames, they are always 2 inches larger than the collar size. Example: a 22 inch collar would take 24 inch Hames for a proper fit.